Gear-obsessed editors choose every product we review. We may earn commission if you buy from a link. How we test gear.
The Best Dumbbells to Buy, Recommended by a Trainer
Boost your run fitness with these powerful workout tools.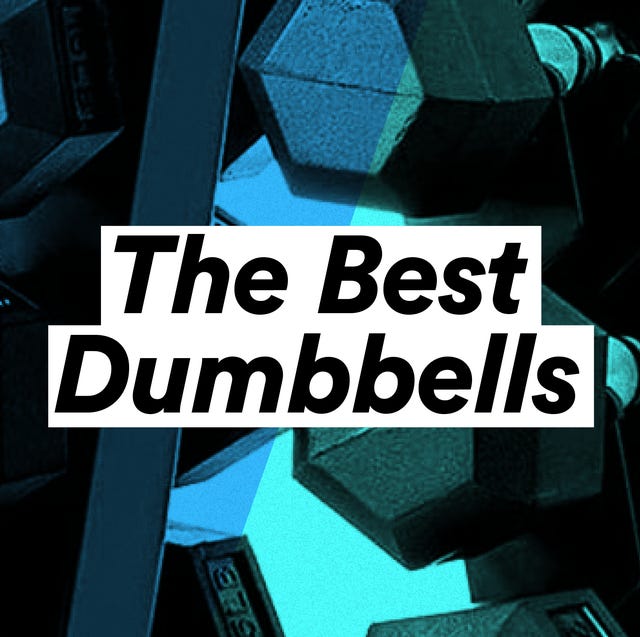 Dumbbells may be relatively small tools, but their benefits are mighty. According to the American Council on Exercise (ACE), working out with dumbbells not only builds muscle, it can lead to greater levels of muscle activation, increased force production, and enhanced resiliency and elasticity of your muscle tissues. And you can use them for hundreds of exercises, from full-body to functional workouts, even HIIT sessions. Plus, by using them to add resistance to your sessions, you'll burn more fat than by cardio alone.
Not only are they a great strength-training tool, but they can also benefit your running by improving your running economy, increasing the time it takes for you to reach exhaustion, and helping neuromuscular coordination.
What To Consider When Buying Dumbbells
Before you go buying these powerful strength tools, there are a few things you should keep in mind.
Material
If you have hardwood floors at home that you absolutely don't want damaged, you may want to stay away from chrome or cast-iron dumbbells that lack an outer padded layer. Instead, good options are dumbbells that are coated in rubber, or ones with an outer neoprene or vinyl layer. If you're using them on an exercise mat or non-marking floor, material doesn't matter as much.
Design
Yes, you're probably looking to mostly use dumbbells as the main weight component for exercises like curls, rows, presses, deadlifts, and more. But consider other things you may want to do with them. If you want your dumbbells to double as grips for wrist-friendly push ups or dips, getting a pair with a hexagonal shape might be your best bet as they don't roll around once planted on the ground. If you want to stand them tall to balance on for exercises like deficit push ups or to roll out with them as an ab tool, consider ones with round ends.
Weight
Of course you should buy dumbbells that match the current weight you're currently lifting. But also consider all exercises that you perform, as well as any gains you might make. Chances are good there are some exercises, like tricep kickbacks, where you're scaling down in weight compared to what you're using for your chest press. And if you're consistently working on things like your deadlifts for posterior growth, you may also want to consider what weight you'll be bumping up to next.
How We Chose
As a health and fitness editor, runner, and National Academy of Sports Medicine Certified Personal Trainer, I've had my fair share of opportunity to try numerous sets of dumbbells in different gym settings. I have extensive personal experience with a number of brands like CAP, Portzon, SPRI, and Amazon Basics. All have been great options to safely and effectively perform workouts and strength exercises. And I've included other dumbbell options below that come highly rated or have been recommended by trusted fitness authorities.
If you're ready to snag a pair (or two, or three) for yourself, we've rounded up the best dumbbells on the market that you can purchase today.
This content is created and maintained by a third party, and imported onto this page to help users provide their email addresses. You may be able to find more information about this and similar content at piano.io