Gear-obsessed editors choose every product we review. We may earn commission if you buy from a link. How we test gear.
The 8 Best Trainer-Approved Resistance Bands for Home Workouts
These versatile space-savers are perfect for even small home gym spaces.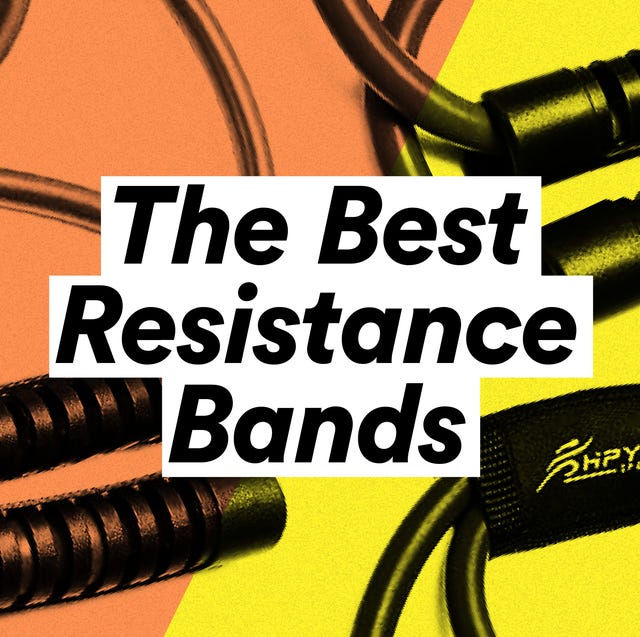 Resistance bands are an incredible piece of fitness equipment. They come in many different shapes and sizes, from long thin or thick loops, to smaller loops, to straight bands not tied or made into a loop, to straight bands with handles on the end, and even figure-eight shaped bands. Depending on what size and shape, they can be used to work just about every single muscle group in your body. Plus, they're the perfect way to warm up your legs, glutes, quads, and hamstrings before heading out for a run, too.
How Resistance Bands Work
Bands provide progressive resistance: the farther apart you pull the band, the more resistance you'll experience. The thickness of the band can also determine the amount of initial resistance, and different size bands or different configurations are better for working different areas—for example, the smaller loops are great for glute work, where the larger loops can be perfect for full body moves like squats, or good mornings and lunges.
Don't think of these as only light-duty workout tools; some bands can offer up to 200 pounds of resistance. But know that there's no standard rating system: Bands can be listed by a static level of resistance, a dynamic range, or just relative levels, such as "light" or "medium." Bands are often coded by color according to how much resistance they provide, but each brand uses a different color scheme, so compare resistance by weight or difficulty level, not color, when selecting a set.
Benefits of Resistance Bands
Perform Multiple Exercises
Resistance bands can be used to replicate many exercises you'd perform with free weights or even certain machines in the gym. You can wrap a band around an anchor point to perform resistance rows or flys versus cable variations; stand on the middle and grab the handles or ends to perform bicep curls or tricep kickbacks versus dumbbell variations; or stand on the band and wrap it around your neck and shoulders to do a squat versus a barbell variation.
Provide Constant Tension
Because resistance bands provide resistance throughout the exercise, you're forcing your body to work even at the starting point of exercises, so the bands help challenge your body in a different way. It's a nice change from a free-weight routine, and they can even feel a bit safer for some exercises—you don't have to worry about dropping them on yourself if you can't complete a rep.
Compact by Design
Resistance bands take up little to no space, making them the perfect piece of equipment to add to your home gym. They're also a great travel companion, as they can easily be stuffed into your luggage for work travel or vacation, or thrown into your gym bag.
Great Tool for Stretching, Mobility, and Rehab
While they can be used for full workouts and strength moves, resistance bands are also a great tool for stretching, rehabbing injuries, and mobility work. They're gentle on joints and can help provide a little or a lot of resistance when you're working to strengthen an injury, or use them as a tool to increase your range of motion and depth in a stretch.
How We Chose
As a fitness and health editor and runner, I've had the opportunity to use many of these different brands in group fitness settings and home workouts. I've used resistance bands extensively in basic bodyweight exercises, strength training, and rehabbing injuries. As a National Academy of Sports Medicine Certified Personal Trainer, I've also used a variety of resistance bands with clients, to help them rehab specific injuries, or to warm up the lower body and posterior chain before a cardio workout. The bands below offer various size, configuration, and tension options, and multiple price points, but all have also been used by many and reviewed positively. Based on our testing, research, and reviews, here are the best resistance bands that you can buy.
---
This content is created and maintained by a third party, and imported onto this page to help users provide their email addresses. You may be able to find more information about this and similar content at piano.io