Gear-obsessed editors choose every product we review. We may earn commission if you buy from a link. How we test gear.
7 Best Yoga Mats for Runners
These nonslip mats let you hold your pose and move through flows without sliding around.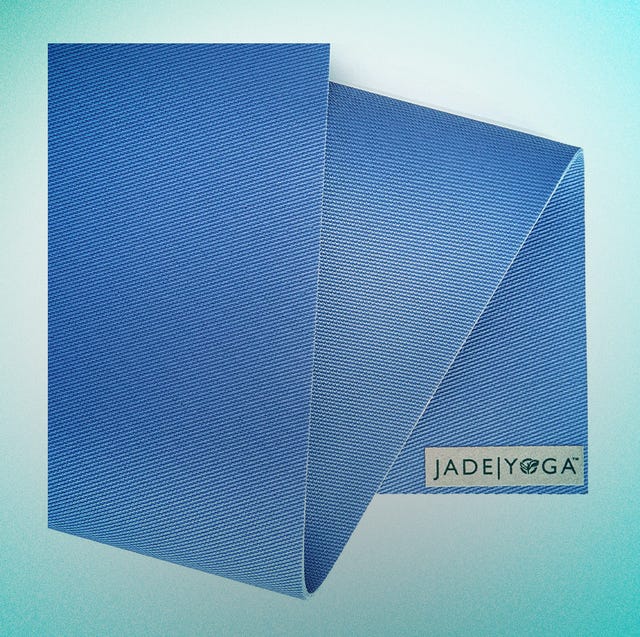 Staff, Courtesy of Jade Yoga
If you're a runner, yoga is a perfect supplement to your running routine. A yoga practice allows you to slow down, focus on tightness in the body, work on flexibility and stretching, and challenge a lot of different muscles you don't regularly use when you're logging miles (but also muscles that can help you become a faster runner).
If you regularly practice yoga, or you're just getting into it and your routine is still sporadic, a yoga mat is a must-have for a successful practice. Not only does a yoga mat provide a decent amount of cushion between you and the ground, as well as offer some support to your hands and feet, it's also made out of rubber or a rubber-like material that doesn't get slippery when wet. Translation: A good yoga mat won't have you constantly readjusting your sweaty hands and feet or slipping all over the place. Plus, a mat provides a finite area on which you can practice and sweat, so you're not leaving your bodily fluids all over the floor—ideal for both health safety and easy cleanup.
What to Consider When Buying a Yoga Mat
Thickness, Weight, and Size
Whether you're a beginner or an experienced yogi, it's nice to feel some support under your hands and feet while you pass through a flow, or especially when you're holding a difficult pose for a while. Mats come in different thicknesses—most of the mats on our list are 5 to 6mm thick, while the thickest is almost 13mm—which allows you to choose if you want a design that has a more plush and cushioned feel or a thinner one that lets you feel more grounded yet still provides support. While most of the mats here are about the same length and width, they do vary slightly, so choose one that best fits your size. You may also want to consider your yoga mat's weight, depending on how you plan to carry it. While a heavier mat, like the 7-pound Manduka on our list, is easy to throw into the car or keep at home, lighter options, such as those that weigh under 2 pounds, are easier to strap to a gym bag or sling over your shoulder.
Nonslip Design
While you could do yoga on a carpet or even on your hardwood floor, neither surface provides enough grip for your hands or feet, meaning you're going to constantly have to adjust your position. A yoga mat is usually made out of rubber or a rubber-like material that provides a good amount of traction on top, so you're easily able to grip the mat even when things get sweaty.
Price
The price for different yoga mats can vary quite a bit. The ones on our list range from $22 to $128. Pricier models usually perform extremely well and will last for years without falling apart. But that doesn't mean a cheaper yoga mat won't offer the same support and grip. You have to decide if you practice enough to want to invest in a great mat that will last forever or a decent mat that you may need to replace sooner.
How We Chose These Yoga Mats
As a fitness and health editor, runner, and National Academy of Sports Medicine Certified Personal trainer, I've always tried to include yoga in my workout regimen. I've taken classes in studios, where I've been able to use the Jade Yoga mat and the Manduka Pro yoga mat. I've had semi-private sessions, where I've experienced the feel of the Gaiam Essentials yoga mat. And I've also done flows at home on recovery days, using the Lululemon Take Form yoga mat. The other yoga mat options I recommend below offer various thicknesses, materials, and price points, and all have been reviewed positively by many users. If you're looking into purchasing a good yoga mat that won't have you slipping around and having to readjust your grip and footing with every pose, try one of these options below.
---
This content is created and maintained by a third party, and imported onto this page to help users provide their email addresses. You may be able to find more information about this and similar content at piano.io