Gear-obsessed editors choose every product we review. We may earn commission if you buy from a link. How we test gear.
The Best Sun-Protective Clothing to Keep You Safe
Supplement your sunscreen with UPF 50+ running apparel and gear.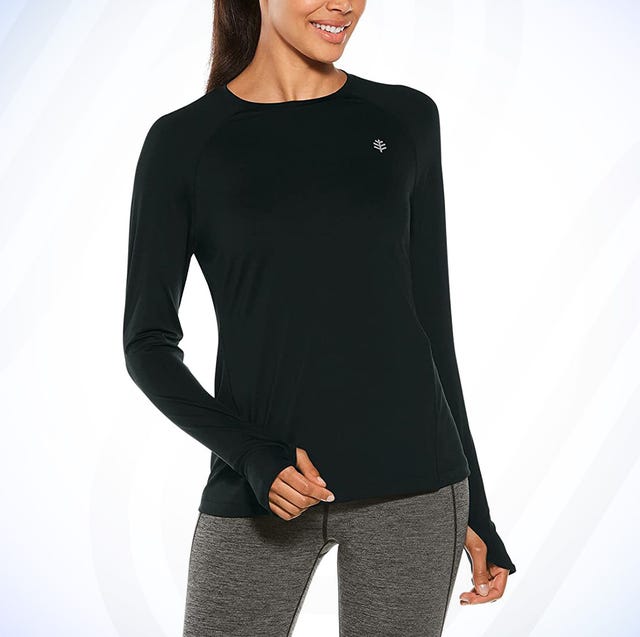 Staff, Courtesy of Coolibar
When it comes to advice on how to shield your body from harmful UV radiation, sunscreen tends to get all the glory. But wearing sun-protective clothing is the true best form of protection—not only can a UPF 50+ shirt block up to 98 percent of rays, but you'll never risk sweating it off, missing a critical spot, or needing to constantly reapply. Today, more and more brands are starting to incorporate sun protection into their workout gear to help runners and other athletes better safeguard their bodies from skin cancer. And we need the support—runners are at a higher risk for skin damage, skin cancer, and premature aging because we spend so much dedicated time outdoors in direct and indirect sunlight. Here's what to think about before buying sun-protective running gear, with advice from a dermatologist and sun-care expert.
Best Sun-Protective Clothing
The Expert

Dr. Elizabeth K. Hale is not only the Senior Vice President of The Skin Cancer Foundation and a practicing dermatologist in New York, but she's also a serious runner with eight full marathons and about 50 half-marathons under her belt. A huge fan of year-round sun-protective clothing, Dr. Hale always wears both sunscreen and long-sleeve sun-protective clothing—even in warm weather, which she says surprises some of her patients. But "unprotected sun exposure is the leading cause of skin cancer and skin aging," she says. Although Dr. Hale notes that using high SPF sunscreen while running is important, "clothing is really the best line of defense."
What to Consider When Choosing Sun-Protective Clothing
UPF Factor
Obviously, a higher number of protection is better. But what do the UPF numbers mean? Unlike the SPF (sun protection factor) number, which is a metric indicating how long it takes for sun-exposed skin to turn red and burn, UPF (ultraviolet protection factor) is a measurement of how much UV radiation can pass through clothing and reach your skin. A UPF 50 garment will prevent 98 percent of UV rays from penetrating, while a UPF of 30 to 49 will provide less protection—but still enough to qualify for the Skin Cancer Foundation's Seal of Recommendation.
Coverage
We know—it's hard to run in full tights or long sleeves when it's 75+ degrees outside. But the more skin you cover with sun-protective clothing, the higher your protection level and the less real estate you have to cover with sunscreen. Try loose-fitting long sleeves on warmer days when you still want more protection and seek shadier running spots with plenty of tree coverage. Try to run earlier or later, too, outside of peak sun-exposure hours.
Fabric Color
According to the Skin Cancer Foundation, dark or bright colors are better at protecting your skin from UV rays because they absorb or even reflect the rays instead of allowing them to pass through the fabric to your skin. Light colors and see-through or slightly transparent fabric, like a thin white shirt, will be less protective because more UV rays can penetrate.
Protect Yourself: Sweat-Resistant Sunscreen • Sunscreen for Your Face • Our Favorite Running Sunglasses • Running Hats We Love

Material and Fit
As for fit, loose-fitting clothing is not only more comfortable in the heat, generally, but it also provides better protection because it's not stretched to the point of allowing sunlight to filter through, according to the Skin Cancer Foundation. Fabric material should also be a consideration. "The general rule is that the tighter the weave and the darker the color, the more protective the fabric is," says Dr. Hale. A basic cotton T-shirt alone provides the equivalent SPF of about seven, she says—and even less if it's wet. "You want clothing that offers UPF, which is usually a reflection of what type of fabric is used—so something like a nylon or nylon blend is much more protective and safe than cotton or linen," she says. "Synthetic materials are actually better than natural materials, so clothing constructed to be tightly woven and provide UPF is good. Another way companies achieve UPF protection is to pretreat their fabrics with UPF chemicals, but those can lose some of their efficacy after repeated washes; whereas a good UPF shirt from a trusted brand will last longer."
How We Selected This Sun-Protective Clothing
The products here were selected based on my personal experience with many of them or sourced from firsthand recommendations from other runners in my circle. I also used the guidance of Dr. Hale and the Skin Cancer Foundation to analyze the effectiveness of products I haven't personally tested, and scoured online reviews to tease out pros and cons. Good sun-protective gear needs to have a UPF factor of at least 40 but preferably 50+, as well as more skin coverage and fabric that effectively filters out ultraviolet rays. It also needs to be comfortable, breathable, and a good value for the price. As a Texan runner, I'm well aware that many sun-protective items will be worn to run in the heat, so I sought out cooler, summer-friendly items that still provide full coverage when making my picks. There should be something for everyone here, no matter your running climate.
Best for Early-Morning Runs
Hoka Performance Short Sleeve
Lightweight
Breathable
Relaxed fit
Key Specs
Coverage: Torso and shoulders
Material: 57% recycled polyester (jersey pique), 83% recycled polyester (ripstop)
UPF: 50+
Sizes: XS to XXL (women's), XS to XL (men's)
Hoka's Performance Short Sleeve has a loose and comfy fit that's ideal for sweaty summer running. The recycled Polartec Power Dry polyester is lightweight and breathable, with a soft bi-component knit construction that dries quickly and wicks sweat. It also has built-in UPF 50+ sun protection, so you can protect your back and shoulders from harmful rays. Bright colors and reflective detailing make the shirt more visible in early-morning or late-evening light. While the shirt doesn't provide the full-sleeve coverage Dr. Hale recommends, it pairs well with sun sleeves or sunscreen for far better protection than a regular shirt alone.
Best Removable Accessory
Pearl Izumi Sun Sleeves
Sun coverage you can control mid-run
Reflective details
Breathable fabric
Too tight or too loose if you're between sizes
Key Specs
Coverage: Arms
Material: 93% polyester, 7% elastane
UPF: 50+
Sizes: S to XL
Arm warmers aren't just for fall or winter wear—they can also have utility as sun protection in the hotter months. These lightweight white sleeves are made from a breathable "In-R-Cool" coldblack fabric that reduces surface temperature by a few degrees, so they won't feel too heavy in the heat. They also have up to UPF 50+ protection—even when the fabric is stretched by 30 percent, according to Pearl Izumi, so your arms retain their coverage without the need to reapply sunscreen. They're easy to slip on or off mid-run, so you can customize your protection as you go. Grippers at the top of the sleeves hold them in place, but be sure to follow the size chart for the most secure fit.
Best Sun-Protective Top With a Good Size Range
Athleta Uptempo Top
Comes in 10 colors and 8 sizes
Soft and lightweight
Long sleeves with thumbholes
Discounted colors have limited sizes in stock
Key Specs
Coverage: Arms, back, torso
Material: Polyester/spandex
UPF: 50+
Sizes: XXS to 3X
Lightweight, breathable, long-sleeve, and sweat-wicking, the Uptempo top is essentially the ideal layer for when you want full sun protection on your arms while running but the warm weather precludes wearing a heavier top. It's comfy for running or yoga but also soft and stylish enough to wear as a casual shirt, with a loose, flattering fit that's longer in the back, and thumbholes to hold the sleeves down and protect your hands. The shirt provides UPF 50+ protection from the sun, so most of your upper body is covered without the need to rely on sunscreen.
Best Men's Shorts
Salomon Agile Shorts
Good 5-inch length for running
Lightweight, quick-drying fabric
Rear pocket
Liner runs small
Doesn't cover much skin
Key Specs
Coverage: 5-in. inseam
Material: Polyester
UPF: 50
Sizes: S to XXL
These running shorts have a five-inch inseam, which makes them short enough to allow for good mobility and airflow on sweaty days, but long enough to not feel like thigh-baring split-shorts. The polyester stretch fabric has UPF 50 protection, so you get good sun blockage in a cool, lightweight, and quick-drying package. At the back of the shorts, there's a small zipper pocket for holding your small essentials; inside, there's an inner mesh brief that's comfortable and breathable, and an elastic waistband with a stretch cord for tightening.
Best Tights for Warm Weather
Brooks Method 1/2 Crop Tights
Three pockets
Capri fit helps you stay cooler
Key Specs
Coverage: Lower body down to mid-calf
Material: 72% polyester, 28% spandex
UPF: 50+
Sizes: XS to XL
These capri-length tights from Brooks have UPF 50+ protection in their polyester-spandex blend fabric, so you only have to sunscreen your lower legs. Made of a lightweight, sweat-wicking fabric, the tights are an excellent compromise on hot days when you still want more sun coverage. The tights have a wide band that sits high on your waist for a flattering, compressive fit. Two side pockets and one back pocket provide enough storage space for your phone and run fuel.
Best Value Sunglasses
Goodr OG Sunglasses
One size might not fit all
Key Specs
Coverage: Eyes
Material: Recycled plastic
UPF: UV400 protection to block all UVA and UVB rays
Sizes: One
Lightweight, inexpensive, and with lots of fun color and pattern options, Goodr sunglasses have been ubiquitous among runners since the company launched in 2015. For the price, the glasses are durable and high-quality. They're also polarized, so they protect your eyes from harmful UVA and UVB rays while filtering out sun glare from light reflections. This OG model fits most faces and doesn't bounce while you're running, but Goodr also sells a BFG model with a wider frame and larger lenses.
Best Color and Pattern Options
Coolibar Devi Long-Sleeve Running Shirt
UPF protection that won't wash off in the washing machine
Long sleeves with thumbholes
Small zipper pocket in the back
Mesh underarms
Key Specs
Coverage: Arms, back, torso
Material: 90% polyester, 10% spandex
UPF: 50+
Sizes: XXS to 3XL (women's), S to 3XL big/tall (men's)
Coolibar is a Minnesota-based brand dedicated to making high-quality outdoors apparel with integrated, dermatologist-tested sun protection. The brand's full line is recommended—but we particularly love the Devi shirt, which offers similar function and UPF coverage to Athleta's Uptempo top with a more fitted look. Small touches make this a great shirt for running, such as mesh panels under the arms for breathability, long sleeves with thumbholes, and a small zipper pocket for your cards and key. The shirt is lightweight and quick-drying enough that it can be worn on warmer days, despite its long sleeves. The men's version, the Agility Long Sleeve Performance T-Shirt, has all the same fabric and features.
Best Men's Shorts for All-Day Functionality
Janji Transit Short
Great for running or all-day wear
Zipper phone pocket
Made from mostly recycled materials
Also available in shorter-inseam models
On the pricier side for shorts
Key Specs
Coverage: 7-in. inseam shorts
Material: 91% recycled polyester, 9% elastane
UPF: 50
Sizes: S to XL
These running shorts have a seven-inch inseam, which makes them short enough to allow for good mobility and airflow on sweaty days but long enough to provide decent UV and upper-leg coverage. The polyester stretch fabric has UPF 50 protection and a DWR finish so you get good sun and rain blockage in a cool, lightweight, water-resistant, and quick-drying package. A drawcord inside the elastic waistband makes it easy to get a comfortable fit, and there's no restrictive inner liner to contend with. Three zipper pockets and a key-loop bungee make it easy to tote your phone and other essentials.
Best Sun-Protective Cap
Ciele GoCap-M (Running Man, Whitaker Edition)
Lightweight
Ventilated
Quick-drying
Machine-washable
Won't cover your ears or neck
Key Specs
Coverage: Head
Material: "COOLwick" fabric with mesh sides
UPF: 40+
Sizes: 58cm (one size fits most)
When you need to shield your eyes from the sun—but don't want the warmth or weight of a traditional cap on your head—Ciele's GoCap will become your go-to. More stylish than a visor but almost as ventilated, the 2.3-ounce cap has an "AIR-Mesh" top that's moisture-wicking and breathable while maintaining the cap's structure. Its full brim, front panel, and back panel have built-in UPF 40+ protection to protect your face and head. And the cap packs down easily, so you can store it in a jacket pocket to break out when it gets too sunny.
Maximum Head Coverage
Outdoor Research Sunrunner Cap
Detachable neck cape
Quick-drying nylon fabric
Key Specs
Coverage: Head and neck
Material: Nylon
UPF: 50+
Sizes: S to XL
For the ultimate sun defense of your head and neck, you won't find a running hat that provides more coverage than the Sunrunner Cap, which has a full brim with mesh side panels and a UPF 50+ cape that snaps on and off when you want more or less protection. When cinched in the front using the drawcord, the cape covers your ears and neck without flapping around. Given the Sunrunner's full coverage, the cap's nylon fabric is as breathable and lightweight-feeling as possible—weighing just 2.8 ounces in total.
Best Men's Long-Sleeve for Max Visibility
Brooks Carbonite Long-Sleeve
Hi-viz and reflective for max visibility
Quick-drying fabric
Thumbholes
UPF 30 lets in more sun than 50
Key Specs
Coverage: Torso, arms, and shoulders
Material: 84% recycled polyester, 16% spandex
UPF: 30
Sizes: S to XL
If, like Hale, you start your runs before the sun comes up to avoid its beaming rays, this stretchy long-sleeve running shirt is the perfect layer. Reflective details at the clavicle, hips, and sleeves make it easier for drivers to spot you in their headlights, while the white, black, and neon patches on the body of the shirt make you more visible in daylight. The shirt is lightweight and breathable enough to not feel stifling in warmer weather, but warm enough for brisk mornings. The UPF factor of 30 doesn't block as many UV rays as we'd prefer, but it's still sun-protective enough to qualify for the Skin Cancer Foundation's Seal of Recommendation
Expert Dr. Elizabeth K. Hale, Senior Vice President of The Skin Cancer Foundation, on How to Protect Yourself From the Sun's Rays—Even When You Can't See Them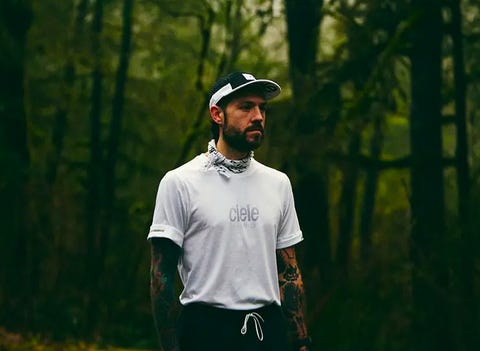 Ciele // Even under the coverage of trees or an overcast sky, it's crucial to protect yourself from UVA and UVB rays.
RW: What's the difference between UVA and UVB rays?
E.K.H.: UVA rays have a longer wavelength and are associated with premature skin aging in the form of sunspots, wrinkles, and other damage. In warmer months, Dr. Hale says there's a predominance of UVB rays, which are the shorter rays that can cause a sunburn. But just because it's cold or overcast outside doesn't mean there's no need to protect your skin—both UVB rays and UVA rays can contribute to your risk of skin cancer and damage. "A lot of times my patients say, 'I protect my skin in the summertime, so I don't get a sunburn,' but I have to educate them that the ultraviolet A rays are present year-round—even on a cloudy day," Dr. Hale says. "And those contribute to skin cancer, as well as premature skin aging, so it's important for runners to protect themselves in all weather."
RW: What can you do if it's too hot to wear full-length sun-protective clothing?
E.K.H.: Dr. Hale recommends running earlier—or later—to avoid the peak hours for sun strength between 10 a.m. and 4 p.m. In warmer months, she often runs before the sun even comes up. If you can't avoid those hours, try to run in the shade and wear sunscreen anywhere not covered by sun-protective clothing. Don't forget a hat, sunglasses, and SPF lip balm.
RW: Anything else to be wary of?
E.K.H.: Look out for surfaces that can reflect ultraviolet radiation, like water and snow. And "don't be fooled by rainy or overcast days, because up to 80 percent of ultraviolet rays, especially UVA rays, can penetrate through clouds and fog," Dr. Hale says. "We've all been there where the day starts out cloudy, and ends up sunny, so you should just always protect yourself." Also, though people with fairer skin are at higher risk for sun damage and skin cancer, no one is off the hook in terms of sun protection. "Although people with skin of color are less susceptible, they're still at risk," she says. "No one is immune.
This content is created and maintained by a third party, and imported onto this page to help users provide their email addresses. You may be able to find more information about this and similar content at piano.io