Gear-obsessed editors choose every product we review. We may earn commission if you buy from a link. How we test gear.
13 Women's Spandex Shorts That Don't Ride Up
These running shorts are a must for anyone vexed by thigh rubbing.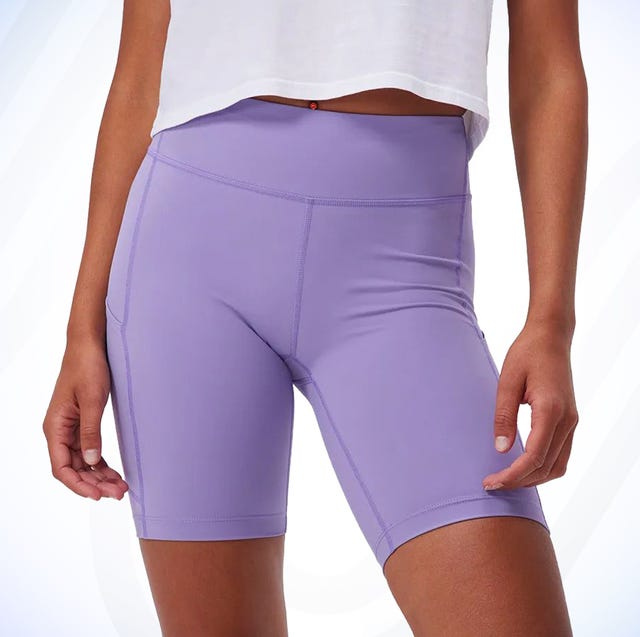 Staff, Courtesy of Outdoor Voices
Working up a sweat is all part of logging your weekly miles, but sweaty, sticky runs can be the nemesis of women who deal with chafing. Running in shorts, especially in humid conditions, can often turn into a dreadful experience as you strategize how to soothe red, irritated rashes on your inner thighs that no amount of lube can resolve. Enter: spandex, the smooth, slippery fabric the running gods have bestowed upon us to decrease friction. But not all bottoms are made equal. Some spandex shorts still ride up, are too compressive, or just lack the power to stay put. So, we scoured the internet, asked experts, and read reviews on some of the best spandex shorts that will keep you gliding and running pain-free all summer long.
Chafe No More: 7 Anti-Chafing Sticks for Runners | How to Treat and Prevent Chafing So It Won't Derail Your Runs
How We Evaluated
These shorts were curated from a mix of reviews from personal tests and recommendations from real runners. I personally have struggled for years to find the best spandex running short. I continually had the same issue, where the leg sleeves would ride up on my thighs, and I would have to constantly pull them down to avoid friction. Wearing shorts to stay cool on my runs almost didn't seem worth it.
The key is to find a spandex short with the right inseam—that is, the leg sleeve length from crotch to hem. (Side note: Shorts, which end above the knee, differentiate from capris because the hem of the latter hits the mid to lower calf.) If you understand the struggle, then you should definitely give the following women's spandex shorts a try.
Amazon Favorite
Baleaf 8-Inch High Waisted Yoga Biker Workout Shorts
Don't ride up
Wide range of sizes
Affordable
Sizing is inconsistent between colors
Key Specs
Sizes: XS–3XL
Inseam: 8 in.
Pockets: 3
These high-waisted compression shorts are very popular on Amazon, boasting a 4.3 star rating from nearly 72,000 reviews. They come in different lengths, including 2-, 5-, and these 8-inch inseams. They're made of a moisture-wicking fabric that's a combination of polyester and spandex. Flat-lock seams keep you chafe-free, and a gusseted crotch doesn't restrict movement. The shorts have three pockets for a good amount of storage: two easy-access leg pockets and one internal waistband pocket.
One runner labeled the 8-inch model "ultramarathoner-approved" and wrote, "The 8-inch inseam is a comfortable length on my thighs—not too short or long. The legs didn't ride up either." One thing to keep an eye out for: one reviewer noted that the sizing was inconsistent between colors.
Best Value
Halara In My Feels High-Rise Pocket Biker Short
Affordable
Very soft fabric
Compression is moderate, not intense, like some runners want
Key Specs
Sizes: XS–XL
Inseam: 9 in.
Pockets: 4
Halara is an up-and-coming activewear brand that's very reasonably priced. Its In My Feels line is made of Cloud9 material that's sweat-wicking and soft, soft, soft. These biker shorts have two pockets on the side of each leg for easy and convenient phone storage. One reviewer noted that "they are tight enough to stay up and not roll down during workouts." But if you're looking for a tight squeeze, these might not be it. Another noted the shorts were "compressive but not too much."
Best for High-Intensity Workouts
Nike Pro 8-Inch
Thick waistband keeps shorts in place
Mesh at hem increases breathability on hot days
Key Specs
Sizes: XS–2XL
Inseam: 8 in.
Pockets: None
The Nike Pro, which comes in five colors, is the brand's classic compression short and a fan fave. The thick elastic waistband creates extra support during high-intensity training. They're made of Nike's Dri-Fit material, a lightweight polyester-spandex blend that wicks moisture and keeps you dry on hot, sweaty runs. One tester was all about the mesh near the hem. "I like the mesh," she said. "I feel that helps them stay and not slide and makes them more breathable." Although this pair is noted for its compression, one runner who reviewed the shorts said, "while trail running, there was no compression."
Most Comfortable
Persit High Waist Print Workout Yoga Shorts
Versatile
Lots of colors and prints
Affordable
Key Specs
Sizes: XS–2XL
Inseam: 5 in.
Pockets: 2
This recommendation comes from yours truly. I have four pairs of these Persit spandex shorts, which have a 5-inch inseam. They're super soft (almost a buttery feel) thanks to a combination of polyester and spandex, making them stretchy yet not see-through. The high and thick waistband has two convenient pockets. The larger pocket fits my iPhone 10, and the other, which is on the front left side, can stow keys. Lastly, they don't cut off circulation on my thighs. (However, this might be a negative for some people. The compression is not great.) But I 10/10 recommend these to everyone I know—and have. They're also great to throw on for errands with their fun prints and comfy feel.
Best Built-In Spandex Short
Sweaty Betty Challenge 4-Inch Running Shorts
Wide range of sizes
Double-layer design for additional coverage
Might be too short for some runners
Expensive
Key Specs
Sizes: 2XS–2XL
Inseam: 4 in.
Pockets: 1
If you're not super comfortable wearing spandex on its own, you will love how it's built into these Sweaty Betty running shorts. A combination of polyamide and elastane allows the Challenge to dry quickly and keep you cool as a cucumber. (One runner reviewer wasn't a big fan, though, noting the material was "a little thicker than I expected.") They also have a wide waistband that comes with an adjustable drawcord and a zippered back pocket to stash gels and lip balm. One runner raved about these double-layer shorts because they didn't rise up on her thighs while she ran.
Best for Cross-Training
Alo Yoga High-Waist Biker Short
Versatile
Designed for runners who go commando
No pockets
Inseam and fit change depending on size
Key Specs
Sizes: XS–2XL
Inseam: 6.5–8 in. (depending on size)
Pockets: None
Alo Yoga's high-rise shorts are made of the brand's signature Airbrush fabric that features four-way stretch, wicks away moisture, and has an antimicrobial (a.k.a. anti-odor) treatment. They also have an extra "front-smoothing panel" near the crotch for commando comfort. (Translation: These help you avoid any front wedgies.) Plus, they come in 13 cute, bright colors that are perfect for any type of workout. (Although one reviewer noted, "Somehow this biker short runs differently in different colors." And they also don't have pockets.) Runners liked the versatility of these shorts, noting they're great for any kind of workout, including tennis, HIIT, and Pilates.
Best Mid-Rise Shorts
Brooks Greenlight 9-Inch Short Tight
Extra-wide waistband keeps shorts in place
Eco-friendly material
Some runners will want more compression in the thigh
Key Specs
Sizes: XS–2XL
Inseam: 9 in.
Pockets: 3
These Brooks shorts are made of the brand's DriLayer HorsePower polyester-spandex fabric, a bluesign-approved (read: eco-friendly) material that will keep you dry and cool. Plus, the Greenlight will hold you in thanks to a super wide waistband. The shorts also have two pockets: one in the waistband and one in the side leg. Runners loved this pair because it had the perfect rise in the waist that truly stayed put and didn't pull up into the crotch. (Um, ouch!) However, one runner thought the shorts were "lacking compression around the legs."
Best High-Waist Shorts
Beyond Yoga Spacedye Biker Short
Extra-wide waistband
Soft, breathable fabric
Key Specs
Sizes: XS–2XL
Inseam: 7 in.
Pockets: None
If you're looking for a spandex short to hold you in, these ones from Beyond Yoga will do it thanks to the 5-inch waistband. Runners appreciated the extra coverage and support compared to other spandex options. The inseam is at a mid-length, measuring 7 inches. The polyester-Lycra Spacedye fabric is stretchy, breathable, and silky soft. However, this pair doesn't have pockets, which one reviewer noted "makes me leave this item out of my wardrobe."
Best for Anti-Chafing
Lululemon Fast And Free High-Rise Short 10-Inch
Extra-long inseam
Soft fabric with minimal seams
Key Specs
Sizes: 0–14
Inseam: 10 in.
Pockets: 3
These high-rise shorts have super long leg sleeves that practically guarantee you won't end up with chafed thighs during your run. They're made of Lululemon's Nulux fabric, a lightweight combination of nylon and Lycra elastane. They also have two side drop-in pockets, one hidden waistband pocket, and a drawcord at the waist. One tester noted that the bottom of these shorts don't have a seam, so they don't cut into your thighs the way other spandex shorts might. (However, this made one reviewer less of a fan: "It looked messy and not worth the money.") And thanks to their 10-inch inseam, they truly don't ride up.
Best for Storage
On Running Sprinter Shorts
Five pockets
Comfortable fabric
Might be too short for some runners
Expensive
Key Specs
Sizes: XS–XL
Inseam: 4.9 in.
Pockets: 5
On Running recently introduced running apparel to go with its super stylish running shoes. And the Sprinter is a great pick for runners who love pockets—it has 5 of them. The shorts are made of sustainable materials, 65 percent recycled polyamide and 35 percent elastane, and have a nearly 5-inch inseam. Although one runner reviewer noted that "the legs don't stay put until I really start to sweat," another thought "they are the perfect length with the most comfortable sweat-wicking material (feels like butter)."
Stylish
Fabletics High-Waisted Motion365 Run Short 6-Inch
Wide range of sizes
Only $14.98 for Fabletics members
Elastic waistband might not be useful for you
Key Specs
Sizes: 2XS–4X
Inseam: 6 in.
Pockets: 1
These Fabletics shorts are super stylish thanks to funky mesh paneling. They have a 6-inch inseam and a convenient zippered side pocket. The brand's versatile Motion365 fabric boasts high compression and maximum breathability. Some reviewers didn't love the waistband: "The narrow elastic running through seems unnecessary," one person commented. Others loved the the side mesh panels that offered extra ventilation.
Sustainably Made
Allbirds Women's Natural Bike Short
Carbon-neutral manufacturing from sustainable materials
Drawcord waistband
Wide range of size
Not best for high-rise fans
Expensive
Key Specs
Sizes: XS–3X
Inseam: 7 in.
Pockets: 1
These recently launched Allbirds biker shorts are made of a super-soft mix of sustainable materials, such as eucalyptus tree fiber and merino wool—much like their shoes. And they also boast a carbon-neutral manufacturing process. The mid-rise shorts have a 7-inch inseam with an internal drawcord and one pocket at the back of the waistband for easy storage. If you're a fan of a high-rise waist, these might not be your fave.
Supportive
Outdoor Voices Zoom 8-Inch Short
Supportive, comfortable material
Decorative stitching might bother some runners
Expensive
Key Specs
Sizes: 2XS–XL
Inseam: 8 in.
Pockets: 2
The Zoom is made of a thicker nylon-Lycra SuperForm material that offers plenty of support and structure, in addition to its sweat-wicking and fast-drying properties. It has an 8-inch inseam and two side pockets. The shorts have additional stitched seams on the waist and booty for extra flair, though you might not be a fan. But reviewers love the length and pockets that one person said "can accommodate both my iPhone 8 Plus on one side and my tiny key fob on the other *chef's kiss.*"
This content is created and maintained by a third party, and imported onto this page to help users provide their email addresses. You may be able to find more information about this and similar content at piano.io