Gear-obsessed editors choose every product we review. We may earn commission if you buy from a link. How we test gear.
10 Great Running Gloves You're Sure to Love
Keep your hands cozy in all conditions with these top performers.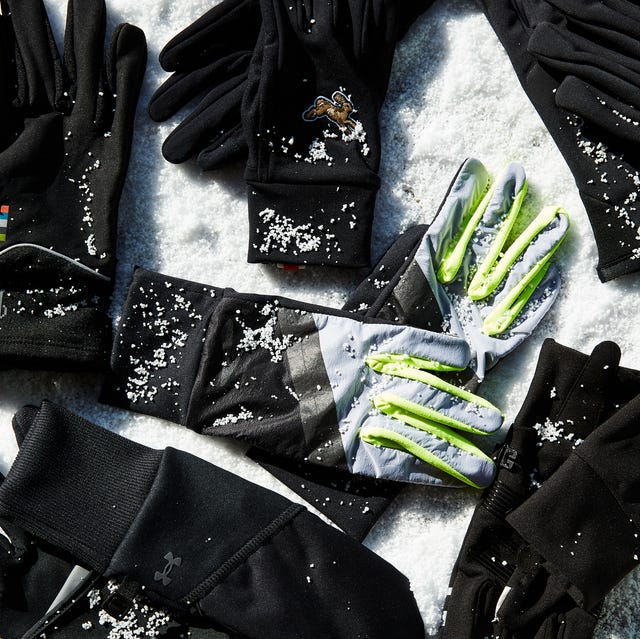 There was a time when runners wore nothing more than the brown cotton gloves you'd find at a hardware store. But, that's not 2021, when our gloves are loaded with technical performance fabrics that can wick sweat and regulate temperature without compromising breathability, tactile ability, and other functions.

From smartphones to GPS watches, most of our favorite running gadgets either have touchscreens that are inactive under gloves or tiny buttons that fabric-covered fingertips fumble over. Enter e-tipped gloves. Most gloves today incorporate some level of compatibility with touchscreens, but some are definitely better than others. You can expect to pay a higher price for that extra engineering, though we've done our best to dig up the best values.

Though cozy, natural fabrics like wool will still protect your hands against winter's bite, in some cases manufacturers have improved a bit on Mother Nature by adding high-tech fabrics to keep the elements out and warmth in. There are even solar-powered gloves that promise to harness the power of the sun to keep frozen fingers at bay.

Be Seen, Be Safe
Just as smartphones have created a demand for touchscreen-compatible gloves, so too have they contributed to the ever-growing problem of distracted driving. In response, running wear companies have stepped up their efforts to help runners be seen. That means more reflective detailing on tights, shoes, and outer layers, of course. But your hands, which naturally move and wave as you stride down the street, also are an excellent place to boost your visibility and catch a texting driver's eye.

Some manufacturers apply reflective bits, such as patches or design elements, to their gloves. You'll also find high-vis gloves in bright colors that make your hands light up like beacons to let drivers know you're there. If you frequently run in low-light conditions, high-vis or added reflectivity is worth considering.
How We Tested
Every product here has been thoroughly evaluated by our team of test editors. We research the market, survey user reviews, speak with product managers, and use our own experience wearing and running in these gloves to determine the best options. Our staff wore every pair here on runs in cold, windy, and wet weather and evaluated them based on their technical fabrics, comfort, looks, and ability to keep our hands cozy.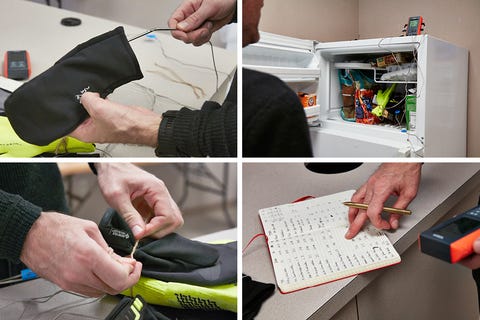 We also put each pair in a 25-degree freezer, using a wireless digital thermometer with a probe placed in the middle finger of the gloves, to gauge their objective insulating ability. In addition to measuring how long it took for the temperature inside the gloves to drop from room temperature (70 degrees) to below 32, we also measured the temperature at 10 minutes to get a sense for how the gloves fare during that first chilly mile, before your body's had a chance to warm up. Here are the top performers.
Lightweight Warmth
Smartwool Merino Sport Fleece Training Glove
Temperature After 10 Minutes: 33°F
Time to 32°F: 11:50
Jeff Dengate has been running in a pair of Smartwool's extremely thin merino liners (below) for years, using them as his primary winter running gloves. "This upgraded model may win me over when the weather turns ugly," he said. "It's still made with merino, of course, it's just slightly thicker—though still no heftier than most polyester models." In our freezer tests, the glove long outlasted typical running models, and it was no contest on the roads when we worked up a sweat. Sure, you get warm and your hands get damp, but the merino holds onto that heat so you stay warm even after you stop moving. Boosting warmth is a windproof panel on the back of the hand and fingers. Our only complaint: Smartwool claims the thumb and forefinger are touchscreen compatible, but we couldn't even get an iPhone to swipe open.
Most Visible
TrailHeads Convertible Running Gloves
Temp After 10 Minutes: 25°
Time to 32°: 5:38

Our favorite thing about the TrailHeads is their versatility for three seasons of running. During fall and spring, the extra mitt portion stores away securely without feeling bulky. Come winter, the waterproof outer shell can quickly repel sleet and snow. And, the fingers aren't too long and baggy at the tips, which makes these gloves easy to use with a touchscreen phone or watch. Mini magnetic clasps keep each glove paired with its buddy, and the gridded fleece on the thumbs feels soft enough to wipe a runny nose (or catch lone drips from a midrun snot rocket). Unfortunately, the wind hood doesn't cover the thumbs, so expect your opposable digits to get less protection from the elements.

Warm and Tech-Friendly
Black Diamond Heavyweight ScreenTap Gloves
Temperature After 10 Minutes: 22°F
Time to 32°F: 7:45
While this option from Black Diamond is among the more expensive options you'll find on this list, it's worth the spurge for runners who want a nice balance of warmth and touchscreen dexterity. Unlike the thick and blocky fingers of some burlier mitts, the Heavyweight ScreenTap model feels much more nimble to tap, scroll, and swipe on a smaller iPhone screen. And, the gloves still performed at the top of the pack in our freezer test. A handy plastic clip secures the right-hand glove to its partner, and the goat-leather palms atop a silky blend of polyester, nylon, and fleece help give you a firm grip on your phone (or postrun mug of cocoa).
Most Affordable
Smartwool Liner Glove
"For everything from those first few 50-degree runs of fall down to January runs when ice covers pavement, I'll reach for my pair of these thin liners," Jeff says. "The merino wool is excellent at regulating your temperature—you won't get too hot on warmer days but will stay toastier than in a comparably thin polyester model." The glove is knit with acrylic for light stretch and a better fit than wool alone, plus the fingertip and thumb work with your smartphone. Because it's made from antimicrobial wool, you can wear it all winter without washing—it won't take on a funky smell. But if it does need cleaning, machine wash on the gentle cycle, then hang the pair to air dry.
Hidden Storage
Nathan Reflective Gloves
"Warmer than you'd expect, these thin fleece-lined gloves kept my fingers, hands, and wrists comfortable through the coldest runs," photo director Amy Wolff said. "Some gloves I've tried boasted their tech-friendliness, but were still difficult to use with a phone in the cold. Nathan's design actually works!" Other highlights include a built-in "my nose is running" chamois in the thumb to catch rogue drips. The back of the hand topographic detailing is also highly reflective, and there's a little pocket for a single key or ID card. A small ask: a clip to hold the gloves together when not in use.
Early-Fall Favorites
Tracksmith Inverno Gloves
Temperature After 10 Minutes: 26°F
Time to 32°F: 6:37
There's no denying that a pair of warm, well-made running gloves can be pricey. So, it always helps when you can find a pair that pulls double-duty and looks good enough to wear off-the-run as well. This pair by Tracksmith traps heat to keep your hands insulated against the bitter cold, but still looks sleek with its brushed finish and classic hare logo. Better still, both the thumbs and forefingers are touchscreen-friendly for easy posting to Strava, or snapping a watch selfie for Instagram. While they're not the toastiest gloves of the bunch, the Inverno excels in terms of fit and comfort. We didn't have any pointy "wicked witch" shaped fingers when wearing these, and we especially liked the buttery-soft inner lining.
Totally Dry Hands
Sealskinz Waterproof All-Weather Ultra Grip Knitted Glove
Temperature After 10 Minutes: 29°F
Time to 32°F: 7:26
This looks like an ordinary knit glove, but it's made with a three-layer construction that keeps you warm and completely dry no matter the weather. A waterproof membrane is sandwiched between the nylon exterior and a cozy merino wool lining, which makes the gloves feel a little crinkly, but you don't get that same suffocating sensation as with some other waterproof gloves. In our freezer test, the Ultra Grip was only middle of the pack for heat retention. But, when taken on an actual run on a rainy, 35-degree night, the combination of merino and membrane trapped heat and kept us cozy. Touchscreen-friendly fingertips and a rubberized palm allow you to operate a phone. Tip: Go for the high-viz yellow color so car drivers can see your hand signals.
Versatile Coverage
Black Diamond Wind Hood GridTech Gloves
Temperature After 10 Minutes: 25°F
Time to 32°F: 6:39
Black Diamond really paid attention to the small details that really set this windproof and water-resistant glove apart. The longer cuffs are smooth and stretchy—perfect for keeping your wrists warm—and provide a little extra coverage that our testers with larger hands appreciated. Our lone knock: While the plastic-like tips do make the thumbs and index fingers tech-friendly, their stiffness felt cumbersome when trying to tap an iPhone touchscreen.
Unlike the hood on most convertible gloves, the one on the GridTech also covers the thumb, so you're not left with a solitary, frozen digit. The extra-thin shield is flappy but can be rolled up and stowed on the cuff if you don't need it. Though you'll find it handy any time you're faced with rain, thanks to a Pertex Quantum Pro water-resistance treatment that makes droplets roll off. During our testing, we found the grid fleece glove traps heat well, despite the fabric feeling thinner.
Best for Using With a Phone
Zensah Smart Running Glove
Temperature After 10 Minutes: 26°F
Time to 32°F: 6:29
You know Zensah for its compression socks and calf sleeves, but the company makes a tricked-out pair of running gloves, too. It's one of the thinnest we tested and doesn't do much good when the winds really start howling, but it excels early in the season or on chilly mornings. The palms are sticky like a tree frog's feet, so you won't drop your phone, and the fingers have metallic-like fabric that works well on touchscreens—no repeated stabbing at the shutter button in your camera app. Plus, there's a lot of reflectivity on the fingers, which are actually facing cars when you run.
Best For Hard Workouts
Mizuno Breath Thermo Fleece Gloves
Temperature After 10 Minutes: 20°F
Time to 32°F: 3:57
The results from our freezer test alone made this Mizuno pair appear fairly unremarkable—until we actually got our hands inside them for a test run. Despite its thinness, the fleece lining does an impressive job at trapping body heat and insulating it close to your skin. An extra long cuff also helps seal in some of that warmth, too. The drawback is that you've got to make enough of your own heat on the run for it to work. During a harder effort tempo-progression run on a chilly 41-degree morning run at the end of September, we found that the gloves kept our hands surprisingly warm. However, our fingers went cold by the time we finished walking a cool-down mile. With very little wind resistance and no touchscreen compatibility, this pair is for runners who plan to keep moving at a fast pace while leaving their phone at home.
This content is created and maintained by a third party, and imported onto this page to help users provide their email addresses. You may be able to find more information about this and similar content at piano.io