Gear-obsessed editors choose every product we review. We may earn commission if you buy from a link. How we test gear.
The Best Running Shorts for Women in 2022
From simple and flowy to those with pockets aplenty, these women's running shorts aim to please all types of runners.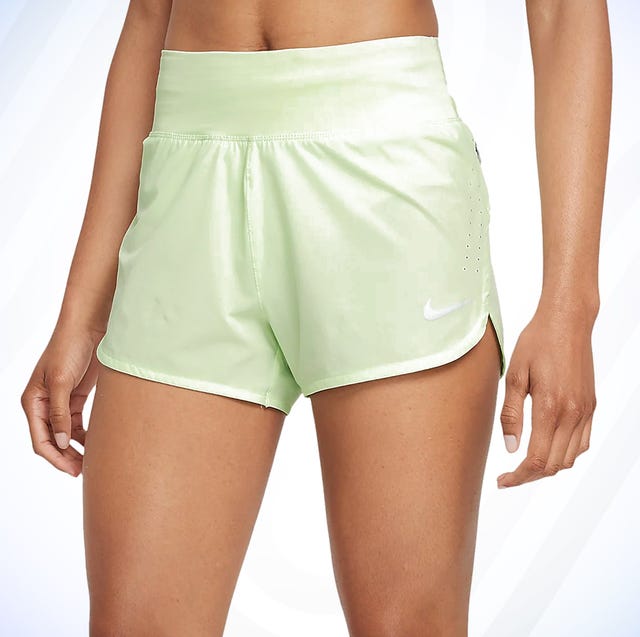 Whether you're logging miles on the treadmill or hitting the trails, it's important to have a clutch pair of running shorts that works for your workout. These shorts should be able to withstand the wear and tear you put them through—just like your shoes. And once you find your fave, it's hard to try out others. But if you're looking for a wardrobe refresh or have thoroughly worn out your current pairs, you're in luck. We've created a comprehensive guide to the latest and greatest women's running shorts of 2022 to help you out.
13 Best Women's Running Shorts
The Expert: I run three times a week, anywhere from 1 to 5 miles, and hit up HIIT and bootcamp classes (Les Mills Bodypump classes are a fave!) at least twice a week. I admit it—I'm normally a fair weather runner. Living in northeastern Pennsylvania, I strictly stick to the treadmill and indoor track at my local gym in the winter months. And in the warmer months, you can find me running at a couple local parks. I love to wear shorts, especially for my outdoor runs, to keep me cool. My health and fitness writing has appeared in a range of top publications, including Women's Health, Men's Health, and Self.
Features to Consider When Shopping for Running Shorts
As you shop, there are a few key things to focus on that will help you easily find your next pair of running shorts.
Inseam: Basically, this is all about the length and how much coverage each pair offers. The longer the inseam, the longer the short. Choosing an inseam length comes down to personal preference—some runners like a shorty-short with a 3-inch or less inseam; others prefer longer styles with 4- to 8-inch inseams (or longer). If you're doing track or speed workouts, shorter inseams might be more comfortable.
Interior Liner: There are plenty of women's running shorts made with and without liners. Some runners love to have a brief liner or built-in compression shorts that can replace underwear and help minimize chafing. Other people can't stand them. Again, this is a preference thing.
Suit Up: The Best Workout Shirts for Women • 10 Women's Running Jackets • Women's Long-Sleeve Workout Shirts for Cooler Weather • The Best Sports Bras for Runners, Tested
Pockets: Of course, you can always throw on a running belt or other storage accessory, but some women prefer shorts with plenty of pockets to stash their keys, cash, and energy gels. Besides number, placement is also key: Look for hidden waistband pockets, ones located at the back of the waistband, and pockets on the side of the legs. And another detail to consider is if they have zippered pockets for more-secure storage.
Material: If you're working up a sweat, you're going to want fabric that doesn't leave you soggy and sopping wet. Look for synthetic materials, such as polyester, elastane, spandex, and nylon, which are known for breathability and their ability to really wick sweat.
Waistband: A comfortable waistband that doesn't ride up when you run and isn't too constricting is important. For a dialed-in fit, find a pair with an adjustable drawstring in the waistband.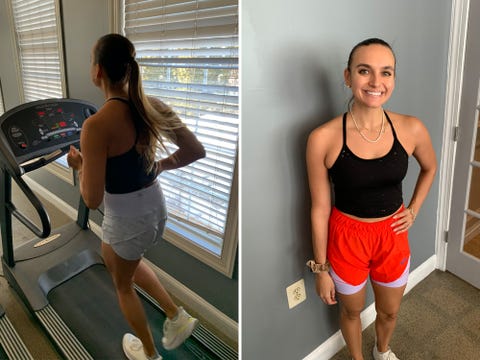 Photos courtesy of Emily Shiffer
How We Tested These Women's Running Shorts
In addition to testing many of these shorts myself, I relied on notes and reviews from fellow runners, including the Runner's World test team, for how each pair functions in terms of comfort, fit, and features. I also looked at the price point. Five of the options below cost $30 or less, so you don't need to break the bank to have solid pieces of running gear in your closet. Here are 13 running shorts for women that made the cut.
Amazon Favorite
Blooming Jelly Quick-Dry Running Shorts
Fabric is lightweight and cooling
Waistband can feel a bit constricting
Key Specs
Inseam: 1.75 in.
Pockets: 1
Built-in liner: Yes
Sizes: XS–3XL
These Blooming Jelly shorts are Amazon's No. 1 best-seller in women's running shorts. They have a 1.75-inch inseam and are made of a lightweight moisture-wicking polyester-nylon blend that features a high elastic waistband. Possibly the best detail about these shorts is the underwear liner for extra support that is made of a soft nylon-spandex blend so you can skip your normal undies, if you prefer. Plus, they have one zippered pocket on the left hip for secure storage.
Most Durable Shorts
Under Armour Play Up 3.0 Shorts
Lightweight, stretchy fabric is breezy and comfortable
Side pockets aren't the most secure
Key Specs
Inseam: 3 in.
Pockets: 2
Built-in liner: No
Sizes: 2XS–2XL
With more than 15,000 reviews on Amazon, these shorts have an impressive average rating of 4.7 stars. They're made of 100 percent breathable and stretchy polyester, which is also anti-pilling so it can withstand plenty of miles without the fabric breaking down. They also have two essential side pockets to store items like your phone, cash, or gels.
Best Value 2-in-1 Shorts
Soothfeel 2-in-1 Running Shorts With Phone Pocket
Liner offers compression, support, and a convenient pocket for extra storage
On the shorter side with a split hem
Liner might ride up as you move
Key Specs
Inseam: 3 in.
Pockets: 2
Built-in liner: Yes
Sizes: XS–XL
These 3-inch-inseam shorts have high split hems and a double-layer design that will satisfy any runner who loves a liner. They also have a side pocket for hidden storage and a great zippered pocket on the back of the waistband. Plus, these also come in 16 colors to match your style.
Best 2-in-1 Shorts
Nathan Front Runner Shorts
Built-in shorts don't budge
Excellent phone pocket
Shell shorts rode up between my thighs during runs
Key Specs
Inseam: 3 in.
Pockets: 2
Built-in Liner: Yes
Sizes: XS–XL
I love the look of the Front Runner Shorts in Sailor Blue. They're made of a moisture-wicking and quick-drying fabric that is also supremely stretchy. The drawcord lets you adjust as you need, and there is reflective detail as an added plus. The best thing was the large phone pocket in the liner of the shorts where I could store my iPhone and my apartment key with minimum bounce. So smart.
Best Waistband
Nike Eclipse
Adjustable waistband offers lots of options for customization
Thin fabric isn't very supportive
Key Specs
Inseam: N/A
Pockets: 2
Built-in liner: Yes
Sizes: XS–2XL
These Nike shorts have a wider waistband that can be folded over and cinched thanks to an adjustable drawstring, something we see less and less these days. They also have plenty of storage: two hidden internal pockets on the front and back waistbands, plus a zippered pocket on the outer left hip. They're eco-friendly, too, made up of a super-thin stretch-woven fabric that uses at least 75 percent recycled polyester fibers.
Best Mid-Length Shorts
Willit Women's 4-Inch Running Shorts
UPF 50 fabric offers extra sun protection
Mesh liner can feel a little chunky
Key Specs
Inseam: 4 in.
Pockets: 3
Built-in liner: Yes
Sizes: XS–2XL
These not-too-long and not-too-short women's running shorts strike a perfect length balance thanks to the 4-inch inseam. They're also slightly longer in the back for some extra coverage while you're in full stride. The nylon-spandex blend provides UPF 50 to protect you from harmful UV rays during outdoor runs. Along with an internal drawcord, the shorts have a built-in mesh liner that makes them even more breathable. Plus, they have two side pockets and a zippered pocket at the back of the wide waistband.
Best Spandex-Style Shorts
Lululemon Fast and Free High-Rise Short
Lightweight, sweat-proof fabric feels breathable in hot, sticky temps
Fabric on shorter inseams can roll up mid-run
Key Specs
Inseam: 8 in.
Pockets: 5
Built-in Liner: No
Sizes: 0–20
These Lululemon women's running shorts were tested by yours truly. Although they look similar to a biker short, the Fast and Free are specifically designed for running. The best thing about these is that they come in three different inseams: 6, 8, and 10 inches. I loved the proprietary Nulux fabric they're made of; it's totally sweat-proof and didn't show any sweat stains after a 3-mile run in on a humid day. They also have five pockets, which securely held my phone and apartment keys.
Related: The Best Spandex Shorts for Women
Best Long Shorts
Baleaf Women's 7-Inch Long Running Shorts
Plenty of storage space
Longer length for greater coverage
Nylon material and longer inseam might feel heavy to some runners
Key Specs
Inseam: 7 in.
Pockets: 4
Built-in Liner: Yes
Sizes: XS–3XL
If you prefer a longer running short, this model from Baleaf is a great pick. This short runs on the long side thanks to a 7-inch inseam. There are four pockets total: a zippered pocket at the back of the waistband, which is large enough for phones and other running essentials, plus two side pockets and an inner front waistband pocket for small keys or gels. The 3-inch waistband is also on the wider side, so you get great overall coverage with this pair.
Best On-the-Go Storage
Hoka Glide 4-Inch Short
Waistband is very comfortable
Zippered pocket is easy to reach while running
They run a little big; consider sizing down
Key Specs
Inseam: 4 in.
Pockets: 1
Built-in Liner: Yes
Sizes: XS–XL
These new and improved Hoka Glide shorts are sick. My favorite thing is the waistband: It has a functional zippered pocket designed diagonally, which makes it easy to store and grab fuel, and the breathable honeycomb mesh sat comfortably on my waist. They're also very light, and the fabric is perforated with pinhole stripes—but they're not see through.
Comfortably Roomy
Gymshark Pulse 2-in-1 Shorts
Style points for the colors, drawcord, and fit
Oversize fit might not be for everyone
The nylon shell makes them a bit noisy
Key Specs
Inseam: 3 in.
Pockets: 1
Built-in Liner: Yes
Sizes: XS–2XL
The Gymshark running shorts not only look super cool, but they perform really well. They have a high-rise, oversize fit that makes them roomy in a good way, and a little longer. And they're a 2-in-1 short with a cool 100 percent nylon shell to top the built-in shorts. They have an envelope-style pocket on the left side leg of the liner for secure storage, and a drawcord waistband that's easily adjustable. The shell acts like a windbreaker, making them great for windy runs.
Retro Aesthetic
Tracksmith Session Shorts
Four-way stretch fabric is soft and very stretchy
Stylish retro look
The liner bunches a bit
Expensive
Key Specs
Inseam: 2.5 in.
Pockets: 1
Built-in Liner: Yes
Sizes: XS–XL
On a recent 50-degree winter day in Pennsylvania, I took these bad boys outside for a brisk and chilly run. The old-school aesthetic—courtesy a racing stripe on the waistband and the brand's embroidered rabbit logo—meets modern design. The material is a four-way stretch blend of nylon and elastane, and they were super stretchy. The liner didn't feel like anything special, but I appreciated the anti-odor, antimicrobial treatment. Another good feature is the UV-protective fabric that's ready for outdoor runs in any season.
Best for Hot Weather
Asics Ventilate 2-in-1 3.5-Inch Short
Comfortable, wide waistband
Ultralight and quick to dry
Flowy fit might not be to everyone's taste
Key Specs
Inseam: 3.5 in.
Pockets: 2
Built-in Liner: Yes
Sizes: XS–XL
Although I love a solid black short, I'm a sucker for color. And these light blue 'Mist' hued shorts have me yearning for spring during my late winter testing. They're made of 100 percent polyester, so Asics means business with the Ventilate name. The ultralight construction is ideal for sweaty runners looking to cool down and dry quickly. The wide waistband has an inner back pocket for storage and a convenient drawstring to customize the fit. They're not designed to be skin tight and are on the looser side, so keep that in mind.
Best Split Shorts
On Running Race Shorts
Perforated mesh is great for hot, sweaty runs
Barely-there liner
Slightly see-through
Run a little small, so we recommend purchasing one size up
Expensive
Key Specs
Inseam: 2.4–3.9 in. (depending on size)
Pockets: 1
Built-in Liner: Yes
Sizes: XS–XL
Sprinters and speed runners, especially, will love these shorts thanks to an ultralight perforated outer mesh. But that construction does makes them a bit see-through, something you might not love. The liner was the best of the bunch—super thin and sleek, so it didn't feel like I was wearing a diaper at all. There's also a convenient rear pocket that has an elastic band closure so your stuff stays secure.
What Makes a Great Pair of Running Shorts, According to Our Expert Emily Shiffer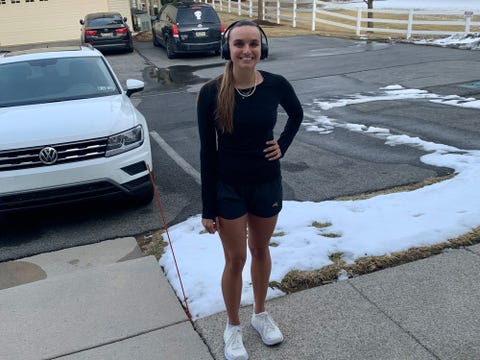 Photo courtesy of Emily Shiffer // Normally a fair-weather runner, Emily Shiffer braved a 50-degree winter day to test the Tracksmith Session shorts.
RW: What weather do you consider to be shorts weather?
E.S.: Hot and humid. Living in Pennsylvania, I don't love having to throw on pants over shorts to hit the gym (which I do out of necessity). But once summer comes, and the air is thick (yes, Pennsylvania is humid!), my philosophy is: The less fabric, the better.
RW: What's your preferred inseam length and why?
E.S.: Three inches. I have found this is my sweet spot where I feel like I have enough coverage without feeling like there's too much fabric on my legs. Shorts do tend to ride up when I run, so I'm a fan of a little more length than less.
RW: What's one must-have feature or criteria you have when shopping for running shorts?
E.S.: I am constantly on the pursuit for the perfect running short, and I don't think I've found it yet. I always have my iPhone with me because I stream Spotify when I run. If my phone doesn't fit in the shorts, I throw on my FlipBelt. But shorts with a pocket big enough to store that (as well as an apartment key or car key), like the Nathan Front Runner, would be the one feature that would sell me on any pair.
This content is created and maintained by a third party, and imported onto this page to help users provide their email addresses. You may be able to find more information about this and similar content at piano.io