Gear-obsessed editors choose every product we review. We may earn commission if you buy from a link. How we test gear.
The Best Running Shorts for Men
Breathable, comfortable, and secure, these shorts are ready for any run.
You can run shirtless, and you can leave the socks at home (sometimes), but there's one piece of running apparel that men just can't skip: a pair of shorts. Like a trusty pair of running shoes, running shorts are an essential piece of gear, and although you might not think of it, they do a lot of work as you run. Quality bottoms keep you cool, provide some protection from the elements, prevent chafing, and store your stuff, too. Of course, there are tons of pairs to choose from—read on for shopping advice and our top running shorts for men.
The Expert: I became a runner in middle school and have been covering running and outdoor gear for years, both on-staff at Runner's World and as a freelance journalist. When I'm not at a desk, I like to run, bike, and hike around Los Angeles, where I live. The one common trait between those three pursuits? I wear shorts while doing all of them, and that has given me plenty of experience with what works and what doesn't.
Material Matters
One of the most important considerations with any performance running apparel is the material it's made out of, and shorts are no exception. Sure, you can log miles in your favorite cotton loungewear, but it definitely won't be a comfortable experience. In general, it's best to avoid cotton, which is heavy, soaks up moisture, and can cause chafing. Instead, look for technical fabrics and blends. Polyester wicks moisture to keep you cool, for example, whereas spandex and elastane stretch to give you greater freedom of movement.
The construction of the textile is also important. For hot weather running, look for a mesh or open weave synthetic fabric, which will feel more breathable on your body (though it will offer less protection from wind and chilly temps). In addition, many high-end performance garments come with antimicrobial treatments to ward off smells. It's a nice feature to have, especially if you don't want to wash your shorts after every run.
Ready, Set, Run: All the Running Shorts We're Loving Right Now • The Best Running Shoes for Men • We Found the Best Men's Running Jackets for Every Season • Our Essential Guide to the Best Men's Running Gear
Features to Look For
Shorts are pretty simple, but aside from the material, there are a few other variables to consider.
Liners: Many running shorts come with built-in liners. The advantage here is that you get a built-in pair of underwear, which helps simplify your running outfit, and it provides a snug, supportive fit, which wards off chafing and irritation. In addition, some shorts include extra support features, like Saxx's BallPark Pouch featured in its Hightail running shorts, which keeps sensitive body parts from jostling around and rubbing against your thighs as you run.
Inseam: Inseam refers to the length of a pair of shorts. For men's running shorts, inseams vary from around 3 inches for a pair of split shorts to 7 or even 9 inches. Shorter inseams mean less material over your legs—and more freedom of movement—whereas longer inseams provide more sun protection. Your ideal inseam is the one you feel most comfortable in, but avoid shorts that fall below your knee; the extra material will just add weight.
Pockets: In addition to keeping you cool and comfortable, shorts have another job: carrying your stuff. If you run with just a house key, this will be less of a concern, but if you need a place to stash a phone or wallet, look for shorts with at least one zippered pocket. Ideally, that pocket should be located somewhere around the waist, where it's less likely to bounce around as you run.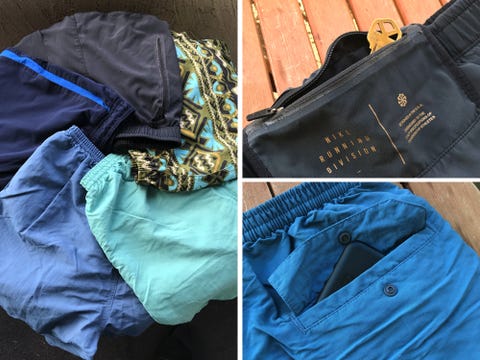 Photos by Michael Charboneau
How We Evaluated Men's Running Shorts
I selected the shorts below based on a mix of research across top performance running brands, Runner's World staff reviews, and my own experience wearing a wide variety of shorts. I evaluated each model based on its material, fit, and features, including any liner or pockets. The list below includes 12 options that suit different budgets and preferences. Whether you're a casual runner or an accomplished marathoner, there's a pair of shorts here to fit your needs.
Fully Lined
Nike Flex Stride Shorts
Thoughtfully located pockets
Lightweight material
Wide range of sizes
Key Specs
Inseam: 7 in.
Pockets: 4
Waistband: Drawcord
Size Range: XS–4XL
I own an earlier version of these shorts (sans liner), and they've been in my running rotation for years. The latest iteration comes with an updated woven fabric for extra breathability in high-sweat areas at the back of waist, and a long liner cuts down on irritation and chafing. A split hem at the sides adds flexibility and improves airflow, too. A zippered pocket at the rear holds your phone, and a drop-in pocket in the waistband offers stable storage for small items.
Soft Liner
Fourlaps Bolt Short 7-Inch
Soft moisture-wicking liner
Flexible, quick-drying fabric
Zippered pocket is small
Expensive
Key Specs
Inseam: 7 in.
Pockets: 3
Waistband: Drawcord
Size Range: S–2XL
I've worn these shorts for years, and they've held up admirably through all kinds of runs and workouts. I especially love the built-in liner, which is made from a polyester-spandex blend that's stretchy and exceptionally soft, creating a very comfortable feel. It also comes with plenty of pockets, including a zippered rear pocket for storing a phone.
Best Value
Adidas Run It Shorts
Breathable recycled polyester fabric
Soft jersey liner
No dedicated phone pocket
Key Specs
Inseam: 5 in.
Pockets: 3
Waistband: Drawcord
Size Range: XS–2XL
A capable and affordable pair of shorts from Adidas, the Run It Shorts are available in 5- and 7-inch inseam lengths, and the legs have an angled cut that slopes up above the knee to give you a little extra freedom of movement. The polyester jersey liner should offer plenty of breathability, and like the Nike shorts above, these include a small inner pocket for holding keys.
Best Basic Short
Asics Rival II Short
Simple and affordable
Lightweight
Wide range of sizes
Key Specs
Inseam: 4 in.
Pockets: 0
Waistband: Drawcord
Size Range: 4XS–3XL
The Rival II is a no-frills, performance-oriented short. It's made from 100 percent polyester for excellent breathability and low weight, and a polyester liner offers protection from chafing and a little extra support, too. Just make sure you have some other way to carry accessories—there are no pockets on these bottoms.
Best for Track Workouts
New Balance Accelerate 5-Inch Short
Breathable woven fabric
Split hem for extra flexibility
No drawcord at the waist
Limited useful storage
Key Specs
Inseam: 5 in.
Pockets: 3
Waistband: Elastic
Size Range: XS–2XL
Available with a mid-length 5-inch inseam or as a classic 3-inch split, the Accelerate short from New Balance is ideal for track workouts (or for anyone who prefers less coverage). The woven polyester fabric offers good breathability, and the split hem gives some extra flex for intense sprints. There's a dedicated key pocket at the waist, but without a drawcord to cinch these down, they're limited in how much stuff they can actually carry.
Best Split Shorts
Asics Split Short
Split hem for added flexibility
Laser-cut vent holes increase airflow
Key Specs
Inseam: 3 in.
Pockets: 1
Waistband: Drawcord
Size Range: S–2XL
The whole point of a split short is simplicity, and this pair from Asics nails that goal. It's made from a lightweight polyester fabric, and it includes some added features for breathability. Laser-cut vents at the sides, along with a deep split hem, create plenty of airflow as you run. There's not much storage, but a small pocket at the waist will hold your house key or ID.
Ultralight and breathable
Ten Thousand Distance Short
Low weight
Stretchy, breathable fabrics used throughout
No phone pocket
Expensive
Key Specs
Inseam: 3 or 5 in.
Pockets: 3
Waistband: Drawcord
Size Range: XS–XL
Ten Thousand's extensively tested, top-spec running short, the Distance is designed for an ultralight, streamlined feel. The polyester-spandex shell comes with perforations at the back to promote good airflow and save weight, and the nylon-spandex liner uses a mesh construction to wick sweat and keep you cool. The spandex in both fabrics gives these shorts plenty of stretch, and three small pockets along the waist store essentials like keys and a credit card. Need to store your phone? Check out the company's Session Short.
Most Versatile
Pataonia Baggies Shorts
Very breathable liner
Fun colors and patterns
Not specifically designed for running
Key Specs
Inseam: 5 in.
Pockets: 3
Waistband: Drawcord
Size Range: XS–2XL
An icon in the Patagonia lineup (and more recently, a staple of gorpcore fashion), Baggies make surprisingly good running shorts. They're made from 100 percent recycled nylon with a durable water repellent finish, dry quickly, and breathe fairly well. On a recent steamy post-work run, the open mesh liner kept me cool and comfortable. For a versatile, go-anywhere short that you can run in, swim in, and then wear to dinner, these can't be beat.
Best for Large Bodies
Baleaf Laureate 5-Inch 2-in-1 Shorts
Zippered back pocket
Flatlock seams to reduce chafing
Tall runners might prefer a longer inseam
Key Specs
Inseam: 5 in.
Pockets: 3
Waistband: Drawcord
Size Range: S–3XL
These affordable shorts from Baleaf come in a wide range of sizes (and colors), and include several features typically found on more expensive pairs. They're made from a polyester-spandex blend for durability and good freedom of movement, and the drawcord waistband helps you dial in a snug fit. On the back of the waistband, there's a zippered back pocket that's perfect for storing a phone or keys while you run. Prefer your shorts without a liner? Baleaf makes an unlined version as well.
Mix and Match Liners
Path Projects Sykes PX
Highly versatile
Lots of secure storage
To get the full benefits, you need to purchase a separate liner or two
Key Specs
Inseam: 5 or 7 in.
Pockets: 4
Waistband: Drawcord
Size Range: XS–XL
Think of the Sykes PX like an outer shell that you can pair with different base layers—in this case, Path Projects' collection of base liners—to suit different weather conditions. This unique layering system makes these shorts highly versatile (as long as you get a couple liners to go with them), but that's not the only highlight. The Sykes are made with a stretchy spiral polyester yarn that eliminates the need for spandex (saving weight), they're DWR-coated for weather resistance, and they include plenty of secure storage: three zippered pockets and an internal key pocket.
Best for Hot Weather
Tracksmith Van Cortlandt Shorts
More coverage than typical split short
Soft fabric
Rear pocket is not very secure
Pricey
Key Specs
Inseam: 4 in.
Pockets: 1
Waistband: Drawcord
Size Range: XS–XL
The Van Cortlandt shorts make a tempting upgrade pick over your typical pair of split shorts, and they're great for workouts in warm weather. They're made with Tracksmith's super soft, lightweight 2:09 mesh fabric (a polyester-spandex blend). The mesh makes the built-in liner especially comfortable, and the 4-inch inseam offers a little extra coverage without getting in your way as you run. These shorts also include a small, zipperless back pocket for toting keys or a credit card.
Best Bargain
Decathlon Kiprun Light
Affordable
Built-in liner
Key Specs
Inseam: 6 in.
Pockets: 2
Waistband: Drawcord
Size Range: S–2XL
For a simple, affordable pair of shorts, it's hard to beat this pair from Decathlon. They're made from a polyester-spandex blend for durability and stretch, and they include a built-in liner to combat chafing. The drawcord waist helps you get a snug fit, and perforated panels at the rear improve breathability. They're a good pick for grinding through shorter training runs or casual jogs—you can save your more expensive pair for race day.
What Every Great Pair of Running Shorts Must Have, According to Our Expert Michael Charboneau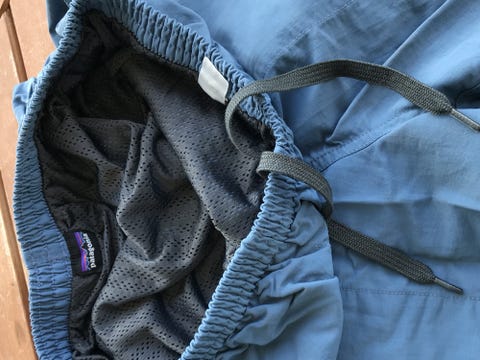 Photo by Michael Charboneau
RW: What weather do you consider to be shorts weather?
MC: Once the temperature drops below 50 degrees Fahrenheit, I start to think about maybe wearing pants. But in cold weather the more important thing is to keep my core warm. In other words, I'd put on a long-sleeve baselayer and/or a jacket before I put on pants.
RW: What's your preferred inseam length and why?
MC: I hated wearing split shorts when I ran track, so I've always stayed away from really short shorts. My Patagonia Baggies have a 7-inch inseam, which works well for me, though I'd also like to try the 5-inch version. They offer good coverage—long enough to create some sun protection and so I don't feel awkward wearing them—but they stay out of my way and don't weigh me down when I run.
RW: What's one must-have feature or criteria you have when shopping for running shorts?
MC: A drawcord waistband. To me, there's nothing worse than poorly fitting shorts that slip down as you run. Elastic waistbands can fit well, but nothing beats the locked-in fit of a drawcord. I think it's even more essential if you plan on carrying anything in your shorts pockets. Without a drawcord, the added weight will just make your shorts slip down even faster.
RW: We all like a deal, but when is it worth it to invest in a pair of shorts over $50?
MC: One of my favorite aspects of running is that it doesn't require much gear—so don't overcomplicate it by buying a bunch of stuff. Start with the gym shorts that are already in your drawer, and pay attention to how they perform as you run. If they work fine for you, great. If not, take note of what you need—maybe a drawstring or more (or fewer) pockets—and use that to guide your shopping. You might find that an under-$50 pair of shorts will get you what you need, or you might opt for a more expensive pair because it has better materials or other key features. The important thing is to be smart about what you buy: Invest in quality gear that meets your needs, and you can focus on running instead of getting distracted by uncomfortable clothing.
This content is created and maintained by a third party, and imported onto this page to help users provide their email addresses. You may be able to find more information about this and similar content at piano.io